Related Posts: Britney Spears Now In Doctors' Hands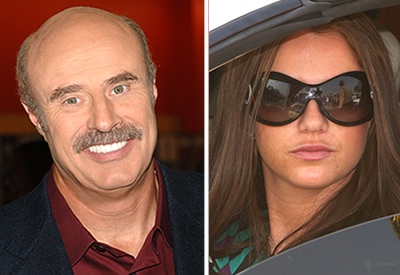 Copyright 2008 Brad Barket / Robyn Beck / Getty Images
News on the street, and by street I mean Internet, is that Dr. Phil paid a little visit to a certain celebrity (whom I'll refer to as Ms. S) on Saturday (January 5) at Cedars-Sinai Hospital. She had been there since Thursday after her standoff with police.
Well after his meeting with Ms. S, Dr. Phil released this statement to Entertainment Tonight:
My meeting with Britney and some of her family members this morning in her room at Cedars leaves me convinced more than ever that she is in dire need of both medical and psychological intervention. She was released moments before my arrival and was packing when I entered the room. We visited for about an hour before I walked with her to her car. I am very concerned for her.
I am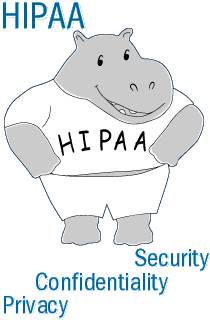 neither a doctor, nor a HIPAA expert, but I did sign the form and take a little class about it. Isn't this situation a breach of doctor-patient confidentiality? Dr. Phil, shame on you!
I suppose he might claim that he is not her doctor and she isn't his patient. So in that case, he is not bound by doctor-patient confidentiality.
According to one article by TMZ, Ms. S was totally "blindsided" by the visit:
People on the 7th floor at Cedars-Sinai Medical Center say the doctor arrived about 7:30 AM Saturday. We're told [she] did not invite him in; she didn't even know he was coming. Sources say it was [her] parents who told Dr. Phil to go to the hospital. When he walked into her room, we're told, a blindsided Britney walked out — and eventually came back.
Maybe Dr. Phil's defense can be that he was an invited family guest? I don't think so. Further reading of that article reveals that Dr. Phil would like to do a television intervention of the pop-star anonymous celebrity patient.
Hmm.. so Dr. Phil comes in at the request of the patient's parent. And then he decides to use this opportunity to generate some publicity for his television show?!? Who in the world got him on the air?? Oh, wait.. Oprah! Oprah needs to pull him in for a little sit-down.
I'm glad to see that I'm not the only one thinking that this was inappropriate. Another article at TMZ reports that many psychiatrists have criticized both Dr. Phil and Cedars-Sinai.
the hospital should not allow any doctor who does not have in-patient privileges into a patient's room, unless that patient has given prior consent. TMZ has learned Britney had no idea Dr. Phil was coming to her room and indeed when he walked in she became agitated and walked out.
The psychiatrists were pretty much unified in their opinions. One claimed to be "outraged and disgusted" about the whole situation. Another called Dr. Phil's actions "intrusive and inappropriate." Yet another criticized the Cedars for allowing Dr. Phil, who doesn't have practicing privileges there, to see one of their patients without her knowledge or consent.
Out of line. The whole situation was absurd from a patient confidentiality standpoint. When dealing with any patient, their privacy is so important. Which is why every single medical blog (at least that I know of) has a very clear privacy statement. No patient identities are to be compromised. Doctors, in order to do their job well, must be able to get the complete story from their patients. And patients, in order to open up, must feel confident that what they share to their doctor will stay between them. Its a simple ethical issue, and a legal one as well.
*****
Update (January 7, 2008): Today (January 7) MSNBC.com is reporting that Dr. Phil has decided to pull his special on Ms. S. He said that the situation is "too intense" for him proceed.
Dr. Phil's statements and actions have sparked a lot of criticism in the media. He defends his actions by saying he was not acting in a professional capacity when visiting Ms. S. You can check out the article at E! Online – Dr. Phil Defends Britney Visit, Calls Off Special.
Update (January 12, 2008): A complaint against Dr. Phil has been filed with the California Board of Psychology. The complaint, filed by another psychologist, claims that in going to counsel the pop-star, Dr. Phil was practicing psychology without a license. This is a serious charge, and one the board might hand over to the District Attorney for review because practicing psychology without a licenses in California is a felony.
Dr. Phil has never been licensed to practice psychology in California and retired his Texas license in 2006.
The complaint also says that a petition to remove Dr. Phil from the air is going around.
More can be found at TMZ.com: Psychology Board Investigates Dr. Phil.
Update (January 18, 2008): USA Today is reporting that Dr Phil still believes his meeting with Ms. Spears was appropriate. However, Dr. Phil says, that he regrets making a statement about it afterwords. Quoting from the article:
"Was it helpful to the situation? Regrettably, no. It was not, and I have to acknowledge that and I do," the talk show host told his audience Thursday during taping of a Dr. Phil episode that will run Monday.

"I definitely think if I had it to do over again, I probably wouldn't make any statement at all. Period."
More can be found at USA Today – Dr. Phil says he regrets statement on Britney.
Sources: TMZ.com: Brit Blindsided by Phil — Hospital Acts Curiously, TMZ.com: Psychiatrists Slam Phil, Cedars, Entertainment Tonight, E! Online – Dr. Phil Defends Britney Visit, Calls Off Special, TMZ.com: Psychology Board Investigates Dr. Phil, USA Today – Dr. Phil says he regrets statement on Britney.