Related Posts: Dr. Phil, have you heard of… HIPAA?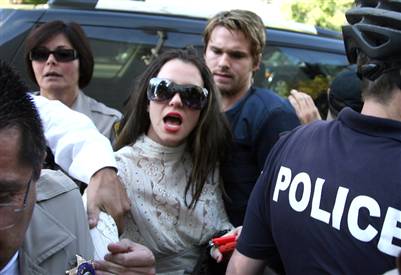 Gabriel Bouys / AFP-Getty Images file

I really don't want to turn this into a gossip column. And I definitely don't want to turn this into a cebrinews site. But a couple weeks ago I did post about the medical debacle between Britney Spears and Dr. Phil.
I posted because it was, in my opinion, an example of very poor judgment on Dr. Phil's part. You can read that post if you want. I've linked to it above.
Anyways, this post is just a little more medical news. A follow-up, I suppose.
In Dr. Phil's non-professional (since he claims his visit was just as a friend and not a pscyhologist), Britney Spears needs serious mental help. At least that's what he said before. Anyways, it appears she just might get the help she needs. Good for Brit.
Britney Spears has been placed under a 72-hour "mental health evaluation hold." For complete details, click the picture above. It'll take you to the news story.
Sorry for not summarizing. I'm stressed. Finals next week. And now, its back to the books!